Entirely too often I allow the minor distractions of life to blind me to what is truly important. Family, career, college, writing, acting, even sleep, at one time or another, have all come between me and my responsibility to keep abreast of my favorite blogs.
It is precisely this sort of misplaced priority that has until recently kept me ignorant of a critical absence on the internet.
I am of course referring to the artist formerly, and possibly still, known as Spooky.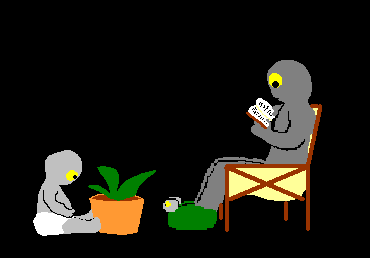 Spooky's blog was unique, a James Bond vintage silver Aston Martin in a vacant lot of scrapped and recycled humor. His clever animations, like short fuzzy situation comedies, never failed to brighten my day. Even at night.
Then, like a badly mixed metaphor, he was gone. Vanished behind the impassive silicone curtain of Blogger.com Page Not Found heartbreak. He left behind no (working) forwarding address, no demands, just a cryptic note and a humorless vacuum where his posts once lived.
The Note:
New Blog – 67 days ago Hi everyone, I'm helping some friends with animations for a new blog we're working on, so, I won't have time to post here. Thanks for reading and you can catch-up with me at www.sendfortheclowns.blogspot.com. take care, Spooky
Of course, it is not unusual for blogs to be abandoned, especially ones of the humor variety. In a ruthless expression of Literary Darwinism, many self-appointed humorists desert their posts in quiet despair after discovering that not everyone appreciates the self-evident hilarity in their collections of daily updated salmonella statistics, stoned felines, or even a web comic about "Jeremy the Feisty Jello Fungus."1
But Spooky wasn't like that: he was good, he was funny, he was still around.
Artist's Author's Sketch
I need him back. I am so distraught by his disappearance that I am offering a generous reward. Anyone providing information leading to his blogitory rehabilitation will receive 24 free Cognitive Feng Shui psychiatric treatments with Doctor Harold Toboggans,2 a years supply of Ahesicore-DT, and possibly even a DangerCouch DVD.
I am serious, Spooky must be found.
The blogosphere is just not grey enough without him.
Actually, "Jeremy the Feisty Jello Fungus" sounds like a rousing adventure. Anyone out there up to the challenge? ↩
This new therapy by Dr. Toboggans promises "a complete reorganization of your neuroses into an esthetic and harmonious arrangement of dysfunction." ↩