I write to you today to bring news of two brave independent Memphis filmmaker. Men of mystery, purveyors of pixel and cellulose who create tales of tear-bringing beauty for the big screen, little screen, and every screen between.
Both are men of unquestioned artistic vision, masters of the both the craft and jargon1 of cinematography; one is none too shabby with an energy weapon.
I know what you're thinking at this point, "Enough about these guys already. Weren't you once in an independent Memphis film?"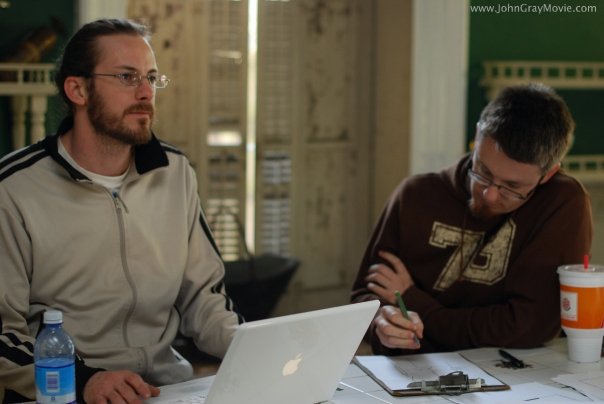 Why yes. Yes I was indeed. It is just this sort of dedication to my personal accomplishments that so endears me to you as an audience. But enough about me, the men I refer to are none other than "Chiseled" Chris Pollock and our own "Danger" Dan Baker.
Chris and Dan have worked together on several local independent films including Danger Couch and the Tinsel of Doom, Plain Jane, and now John Gray.
It is this last cinematic creation that I wish to discuss with you today.
Co-written and co-directed by Baker and Pollock, and produced by Paul Skidmore, John Gray is a semi-finalist in the Doorpost Film Project national competition and has a chance to win some serious money for these hard working artists.
This is where you come in, but I'll let Dan tell it:
We need your help to advance to the next round. You can watch and vote for JOHN GRAY by going to
http://www.thedoorpost.com/joy/johngray
or by searching for "John Gray" at thedoorpost.com.
If we are one of the top ten short films, we get the chance to make an even bigger film (for which Doorpost provides the funding). The winners of that round receive cash prizes, part of which we will put towards continuing to make films.
You need to register to rate films, but it only takes a few seconds. Also, in order for your vote to count, you'll also need to rate 4 additional films. They're all under 7 minutes, so it shouldn't take too long. After you watch, feel free to leave us a comment!
I really can't speak highly enough about this film. It is a beautiful steampunk romance that gives no hint of its two-months-from-concept-to finish-production pace.
Well enough stalling. You heard the man, get to viewing.
Keep up Dan's ongoing adventures at Danwrotethis.com
–
And keep your fingers crossed as Doctor Toboggans meets the undead at the Memphis Zombie Massacre April 24th. Hopefully he'll be eaten.
Images courtesy of JLR Photography -see more production pics here and here.
It is a little publicized fact that I hate jargon and overspecialized language of any kind and protest it every chance I get. When working with Dan on various video projects, typical comments from me would go something like this:

"No Dan, I can't get you a 'stinger' but you look like you cold use this extension cord."

"Should you you day get married, I will happily be your best man, but please don't ever again ask me to be your 'best boy'". ↩